Cable tray
Specicfications
Standard
NEMA VE 1 - 2002
Width (W)
50, 75, 100mm – 1000mm
Height (H)
50mm, 75mm, 100mm, 150mm, 200mm
Thickness (T)
1.0mm, 1,2mm, 1.5mm, 2.0mm
Hot dipped galvanized: T (1.5~2.0mm)
Length (L)
2500mm
Finished surface (F)
Electro powder coating(E), Pre-Galvanised(G),
Hot Dip galvanised(H)
Standard colors

Gray RAL 7035 / Orange RAL2004 / Blue RAL 5005. Other colors can be supplied according to customer requirements

Lưu ý

W >= H
Product information
Cable tray (also called the tray tray) is a tray that supports and installs electrical cables and cables (with insulated covers), used for installing wires and cables in factories, apartments, building...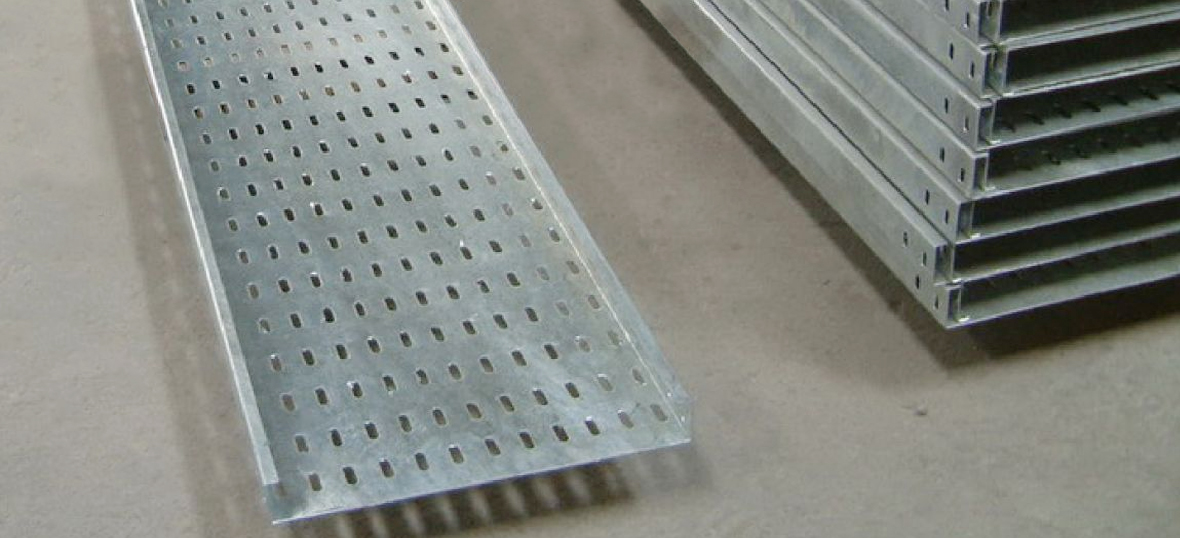 Specifications
Materials: Black corrugated iron, corrugated iron and steel sheets.
Finished surface: Electro powder coating(E), Pre-Galvanised(G), Hot Dip galvanised(H)
Standard thickness: 1.0mm - 2.0mm
Standard width: 50mm ÷ 1000mm
Standard height: 50mm ÷ 200mm
Standard length: 2500mm
Standard paint colors: RAL 7032, 7035. Other colors can be supplied upon customer's request.
Cable ladders usually do not have lids. If any must be further requested.
Advantages of cable tray
Advantages of the cable tray cable tray design is basically the same as the cable tray, but the body of the cable tray is perforated with the same dimensions, depending on the design, there are different types and shapes of the cable tray. The punching on the cable tray is made by specialized CNC machine to ensure aesthetics and high accuracy, the finished cable tray always meets the technical and quality standards.
Cable trays are used to guide cables and wires to save work space, protect cables and ensure safety for users. Cable trays create higher ventilation and ventilation for the conductors. The holes in the cable tray will help the inner lines not overheating, or overheating during the hot season or during operation. Perforated cable tray is a very effective solution for natural wiring and ventilation.
Disadvantages of cable tray
Cable tray has a natural ventilation mechanism, in contrast to the ability to protect electrical wires and cables completely from dirt is very limited, the dirt in the air can follow the holes to attach to the line. So with wiring in a dusty environment, users should not use perforated cable tray. However, for indoor installations, in the workshop customers can consider using perforated cable tray to wire.