Control switchboard
Control switchboard
Standard
IEC 61439 - 1,2
Rated input voltage (VAC)
380/400 VAC
Rated output voltage (VAC)
220 VAC, 380 VAC
Rated current (A)
25÷1000A
Cutting current (kA)
25÷100kA
Frequency (Hz)
50/60Hz
Ingress protection
IP54 (Outdoor)
IP42 (Indoor)
Form
1
Number of layers
1 or 2
Finished surface
Powder coating
Materrial
Sheet metal 1.2÷2.0mm
Product information
Motor control switchboard contains the switches and controler used to control and protect motors, pumps .., with large capacity. There are methods of starting and controlling depending on the engine type and customer requirements such as: direct start, star - triangle start , soft start, inverter ... Motor control switchboard can including main components: PLC central control unit, MCCB / MCB Switches, Contactor, Relay, Timer, Inverter (Inverter), Soft Start (Soft Starter), or Star-delta starter .
Some methods of starting the engine:
1. Hard boot:
Used for small capacity motors (<10kW), star / delta start method. This method has advantages: cheap price, easy testing, stable operation. Disadvantages: usually used for low-power motors, limited starting current is not great, for high-power engines, it only applies when the power supply is strong.
2. Soft-start:
Usually applied to large capacity motors and weak power supplies. Switchboards often use soft-start devices of some reputable brands. Soft-start motor control switchboards are very important in the industry, greatly saving power, increasing the working life of the engine and not affecting other equipment in the grid when motor operated. This application is very valuable to control the voltage applied to the motor, which will reduce the starting current to 1.5 ÷ 3 times the rated current depending on the load mode because when the engine is closed directly to the grid , the starting current of the asynchronous motor will be very large from 5 ÷ 8 times the rated current. This type is more expensive than hard boots.
3. Start using the inverter:
This option has all the advantages of a soft-start, in addition to changing the engine speed. Advantages to save power, make the most of working capacity. Starting with inverter helps stabilize voltage, avoiding causing voltage drop to other electrical equipment. Motor protection when short circuit, overload, phase failure, high voltage low. Helping engine endurance increases engine life.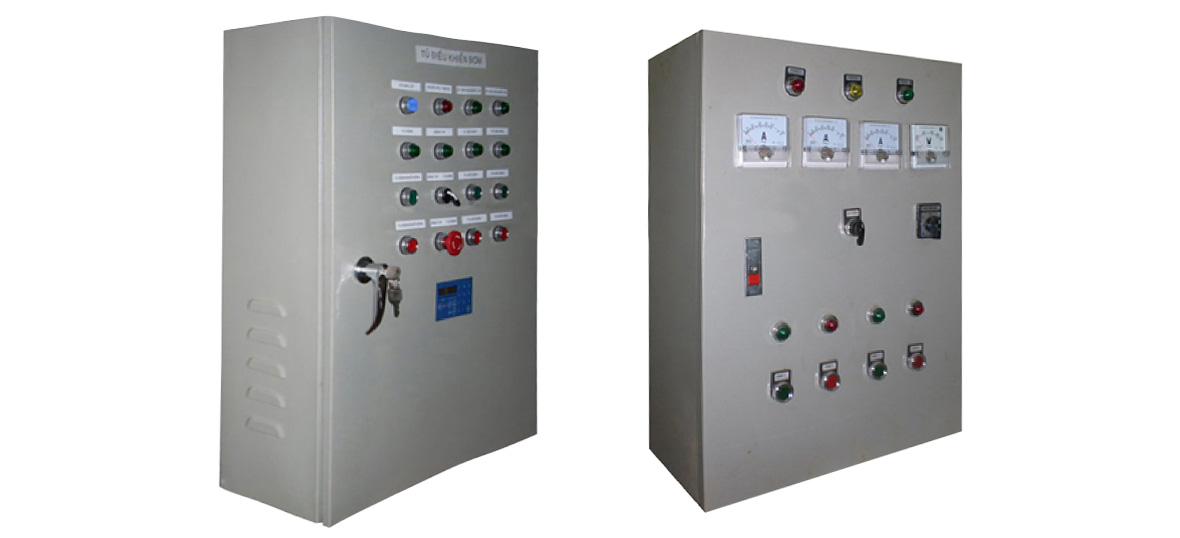 Application
Motor control switchboard is used to start, control the speed or direction of rotation of the engine. Often installed to control large-capacity engines in factories, factories, pumping stations.